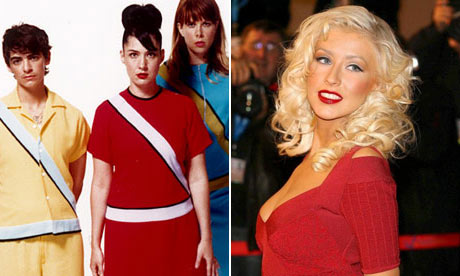 I never thought I'd be writing about Christina Aguilera in this blog, but she is working with Le Tigre, MIA, Lady Tron, Goldfrapp and Santigold for her next album! WOW! What a lineup of fierce women. I am psyched to hear this. ALSO, Kathleen wrote a blog post on Le Tigre's Myspace that can be read
here
stating Le Tigre did not break up, and it mentions some of the projects she's been working on! As you probably know, JD has been touring with
MEN
who I saw (and loved in Boston) can't wait to see them when they loop back around with Gossip in October!
I don't know a lot about her, but I've always felt like Christina Aguilera was a feminist, here is a cool article called
Christina Aguilera, Riot Grrl, How a Pop Princess Became a New Voice for Feminism
from Julianne Shepherd in the Portland Mercury in 2004.
Here's Christina's song "Can't Hold Us Down" with Lil Kim.